The WEC Machining team exhibited at the one day Safran Nacelles exhibition on 26 September in Burnley, Lancashire.
The exhibition was the first 'on-site' supplier event of its kind and was hosted by the North West Aerospace Alliance, bringing suppliers into direct contact with end-users in their place of work.
As an Aerospace AS9100 Rev C accredited company, it was a chance for us to showcase WEC Machining's range of multi-axis CNC machining and precision engineering capabilities for the industry.
We understand the need for precision, quality and working to tight deadlines when manufacturing components for Aerospace. As a result, we are AS9100 accredited for CNC & conventional machining, turning, milling and minor assemblies including inserts, bushes and bearings, which complements our ISO 9001:2008 certification.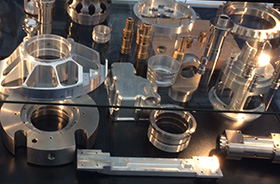 With an extensive machinery line-up of 35+ state-of-the-art CNC machines, coupled with a team of highly-skilled engineers based in Blackburn, we have the capability to deliver on time and to the highest quality.
The show proved to be a huge success and we will be exhibiting at a range of other interesting events throughout the next 12 months.
If you would like to discuss your machining and precision engineering requirements, please feel free to contact us with more details.